---

Sound new premises! - The sound and vibration instrumentation and software specialist, AcSoft Group, which comprises AcSoft, Svantek and GRAS, has relocated to a new purpose-built office in Bedford (GB) to accommodate recent significant growth of the business.

Level switch for extreme process conditions. - With the new OPTISWITCH 5300 C, Krohne presents a vibration level switch for liquids that can withstand extreme process conditions such as hot or cryogenic temperatures and high process pressure.

Best HMI Software! - InduSoft's Web Studio software was announced as the Control Engineering 2016 Engineers' Choice Awards winner for the Software - HMI software category.

Testbed to deliver a new network infrastructure to support the future of the Industrial Internet of Things. - National Instruments has announced a collaboration with the Industrial Internet Consortium (IIC) and industry leaders Bosch Rexroth, Cisco, Intel, KUKA, Schneider Electric and TTTech to develop the world's first Time Sensitive Networking (TSN) testbed.

"Device Partner" Award for IIoT integration. - Red Lion Controls has recently achieved the "2016 Device Partner" Award from Telit, a global enabler of the Internet of Things (IoT), at the Telit IoT Innovation Conference in Fort Lauderdale. This achievement follows Red Lion's Industrial Internet of Things (IIoT) hardware integration and certification with Telit's deviceWISE platform.

System ensures accelerated time-to-market, reduced operating costs & revenue growth. - Aegis Software has announced that Creation Technologies has chosen to implement FactoryLogix across all ten of its global manufacturing locations.

Latest lighting in tried & tested format! - Despite a familiar appearance due to their tried-and-tested fitting design, the 6002 and 6402 series linear luminaires from Stahl, use the latest LED technology inside.

Ensuring the Interoperability of Drive and Motion Control Applications. - The long-established certification process of PI (PROFIBUS & PROFINET International) ensures that users around the world can rely on uniform and interoperable communication and application interfaces. To further ensure the interoperability of drive and motion control applications, certification of products with the Encoder profile will be available starting immediately.
DC power source auto-ranging capability. - Intepro Systems has published a technical note describing the benefits of auto-ranging in power conversion equipment test applications.

Prototyping and testing new 4G+ proposals - National Instruments has announced a system for testing, experimenting on and prototyping new LTE Unlicensed (LTE-U) and/or License Assisted Access (LAA) wireless access technologies.

Company launches Top Quartile Performance - Emerson partners with the energy industry to take back hundreds of billions in 'dead money' and get the most from capital investments.

New EMI test receiver. - The R&S ESW EMI test receiver from Rohde & Schwarz is designed for applications in manufacturers' EMI labs and in test houses. The highly sophisticated certification and R&D measurements required in the A&D and automotive sectors call for an EMI test receiver with outstanding characteristics.

Automation expertise will help bring key natural gas pipeline online quickly. - Mexican oil and gas giant Pemex and ENGIE, a French energy company, have selected Emerson to help upgrade and expand Mexico's gas pipeline infrastructure.

Weighing & Dispensing at Jakarta plant. - PT Dankos Farma has successfully taken Werum's PAS-X Weighing & Dispensing and finished goods check-weighing system into operation at the pharma company's Jakarta plant in Indonesia.

New compact lab oscilloscope for multi-domain applications. - The R&S RTO2000 from Rohde & Schwarz, claims to be the most compact lab oscilloscope for multi-domain applications. When using it to check advanced embedded designs, developers are able to analyze how sophisticated functional units such as power supplies, the processor system and the sensor technology interact.

Alarms & automation Security.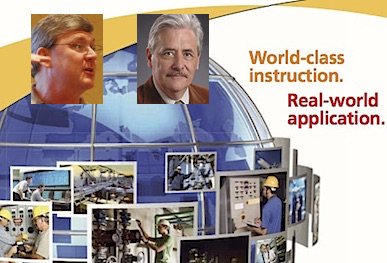 - Two ISA short courses being held in conjunction with this March's ISA Food & Pharma symposium in Cork (Irl). They are:
> Introduction to the Management of Alarm Systems (IC39C)
> Introduction to Industrial Automation Security & the ANSI/ISA-62443 Stds (IC32C).

Planning a revamp? - Jonathan Wilkins, marketing director of European Automation, discusses the stages of hot cutover and alternative solutions to minimise downtime.

IR camera for for greater image clarity. - Fluke has introduced the Ti450 Infrared Camera, a new high-end model in its Professional Series, which takes focusing to a higher plane with MultiSharp™ Focus.

Automation for more than half of North American LNG export capacity decided! - Emerson Process Management has been tapped by Cameron LNG to help automate its new liquefaction project, adding three LNG trains to facilitate export of domestic natural gas to international markets.
---

---