---

Major Food and Pharma event in Ireland looks exciting.

- We reported last year that the 3rd International Society of Automation's Food and Pharmaceutical Symposium (#FPID16) was scheduled to be held in Ireland in March 2016. It is the first time that the event has been staged outside of North America and already a formidable line-up of speakers have agreed to present.

Prevent heavy equipment from falling over. - Memsic has launched a new product family, the MTLT series of Inclination and Tilt Sensors. Samples of the first three family members in MTLT series, the MTLT110S-R, MTLT105S-R and MTLT105D-R are currently available for evaluation.
Industrial cybersecurity - To improve industrial cybersecurity understanding and awareness, the International Society of Automation (ISA) has developed a new white paper, "What Executives Need to Know About Industrial Control Systems Cybersecurity." The paper was written by Joseph Weiss, PM, CISM, CRISC, a widely recognized industry expert on control system cybersecurity.

Variable speed drives for low-power motors. - WEG has launched a new cost-effective, reliable and easy-to-use series of compact variable speed drives (VSDs) to enhance energy efficiency across a wide range of applications requiring low motor power.

Papers for Gass turbine instrumentation. - The Institution of Engineering and Technology issues Call For Papers for the 8th EVI-GTI Conference on Gas Turbine Instrumentation. (September 2016)

Economical moisture sampling system. - The ES20 Compact Sampling System from Michell Instruments now has the option of an Easidew PRO XP dew-point transmitter. This makes the system suitable for a range of moisture measurement applications in hazardous areas where explosion-proof certification is needed, in addition to the existing intrinsically safe options
This week we moderate the Future Factory Seminar as part of this important event!
The HASHTAG for the Conference & Exhibition 2016 is #MSC16

It's the little things that trip you up!

- Brian Booth, VP of the Water Treatment Innovation Platform with NCH Europe says, "There's a lot of chemistry, physics and maths involved in perfecting your water treatment solution." Read on...

Pressure on wireless! - The Rosemount Wireless Pressure Gauge, the first such, enables remote collection of field data, keeping operators updated on changing field conditions and improving personnel safety by reducing manual operator rounds and field exposure.

Surface mount machines - Key-Tech Electronic Systems is further advancing its production ambitions with the recent installation of two, new, fully automated Yamaha Z:LEXYSM20 modular surface mount machines, within the busy 46,000 sq. ft. facility.

Power Quality Seminars programme for 2016. - Fluke offers a free Power Quality Seminar as part of its programme of seminars for 2016 throughout the Ireland & Britain. Designed to help Facility Managers, Maintenance Engineers, Energy Consultants and Power Engineers to save money on energy bills and increase machinery lifetime

Wireless switches without batteries. - ZF Electronic Systems is introducing a new line of switches that don't need wired connections and do work wirelessly without batteries. Their power source is ultimately the physical actuation of the switch.

Ethernet line extenders. - Westermo has released two additions to its range of Wolverine advanced industrial Ethernet line extenders. These rugged, reliable and compact devices are used to establish long-distance, high-speed remote connections between simple or complex Ethernet networks using existing copper cables, thereby reducing installation time and cost.

SIL 1 safe protection for mahinery - Emerson's CSI 6500 Machinery Health Monitor now has an IEC 61508:2010, Safety Integration Level (SIL) certification, Level 1, making it suitable for use in delivering reliable protection monitoring in such environments as steam and gas turbines in power plants, critical refinery assets, nuclear industry critical assets, and other safety-critical applications.

Safety, explosion mitigation and prevention enhanced by acquisition! - Newson Gale has been acquired by the HOERBIGER Group and is now a member of its Safety Solutions business segment.

Benchtop PSU. - The GPS-TPS352 1200W output benchtop power supply has just been announced by Gresham Power Electronics. Supplied in a convenient and compact desktop case less than 50mm tall, the GPS-TPS352 provides reliable system power up to 1200W (1400W peak) with low output ripple and noise.

All-in-one instrument for engineers using benchtop test equipment. - National Instruments (NI) has a new, high-performance model of VirtualBench. The software-based VirtualBench all-in-one instrument combines a mixed-signal oscilloscope, function generator, digital multimeter, programmable DC power supply and digital I/O.

Wireless monitor receives CSA Approval. - The BM 25 Wireless (BM 25W) area gas monitor from Oldham has been certified by Canadian Standards Association (CSA) and now carries the CSA mark of approval.

Learn project management! - The International Society of Automation (ISA) has signed a Memorandum of Understanding (MOU) with the Control System Integrators Association (CSIA) to deliver a web-based project management course customised to meet the specialised needs of system integrators.

Enhanced level measurement technology for bulk solids applications. - Further addressing the tough challenges of accurately measuring level and volume of bulk solids and powders in large vessels, bins and silos, Emerson Process Management has enhanced its range of level measurement devices.

Preventive maintenance practices for all! Unplanned downtime due to equipment failure can cost manufacturers up to three per cent of their revenue, according to the U.S. Federal Energy Management Program.
---

---
Dust & Air Quality Workshop
Ashtead Technology
27/01/2016
High Wycombe (GB)

---
20th annual Arc Industry Forum
"Industry in Transition: Navigating the New Age of Innovation"
8/02/2016 to 11/02/2016
Orlando (FL USA)

---
Southern Manufacturing & Electronics
Exhibition
9/02/2016 to 11/02/2016
Farnborough (GB)

---
Micro-Measurements training program
Strain Gauge
16/02/2016 to 17/02/16
Basingstoke (GB)

---
Micro-Measurements training program
Instrumentation
18/02/16
Basingstoke (GB)

---
emv
Int Exb & Conf on EMC
23/02/2016 to 25/02/2016
Duesseldorf (D)

---
HazardEX 2016
Conference & exhibtion
25/02/2016 to 26/02/2016
Runcorn (GB)

---
Practical Aspects of PROFIBUS, PROFINET & IO-Link
Seminar
25/02/2016
Coventry (GB)

---
ARC Industry Furum - Europe 2016
Industry in Transition: Smart, Safe, and Sustainable Manufacturing
2/03/2016 to 3/03/2013
Amsterdam (NL)

---
Vision Technology Forum
Stemmer Imagaing
3/03/2016
Towcester (GB)

---

Increased demand for XRF analyser hire. - Steve Drake, NDT Market Manager at Ashtead Technology believes that XRF is one of the most important technologies in the company's fleet of NDT and environmental testing instruments.

Weight Indicators With Large LED/LCD Displays. - Two new weight indicators featuring large six-digit LED and LCD displays have been introduced from VGP Transducers. Combining weighing and counting modes with an array of advanced features and communication interfaces, the Intuition 20i and Intuition 22i provide versatile solutions for a wide range of commercial and industrial application.

Radar level transmitter. - Krohne has introduced a new radar level transmitter, OPTIWAVE 1010, for bypass chambers and magnetic level indicators.

Fast Ethernet Interface Card for Train Control. - The F305 network controller, from MEN, coming in 3U CompactPCI supports four fast Ethernet channels and real-time Ethernet functionality.

Long range high position sensors in hazardous areas! - The NCG-1-AL-UHV position sensors from Queensgate, based upon highly advanced proprietary capacitive technology, are the longest range devices in the company's portfolio.

Emissions monitoring to be studied! - The organisers of CEM 2016, the international emissions monitoring event, have published details of the conference that will run over three days in Lisbon from 18th to 20th May.

Major Food and Pharma event in Ireland looks exciting.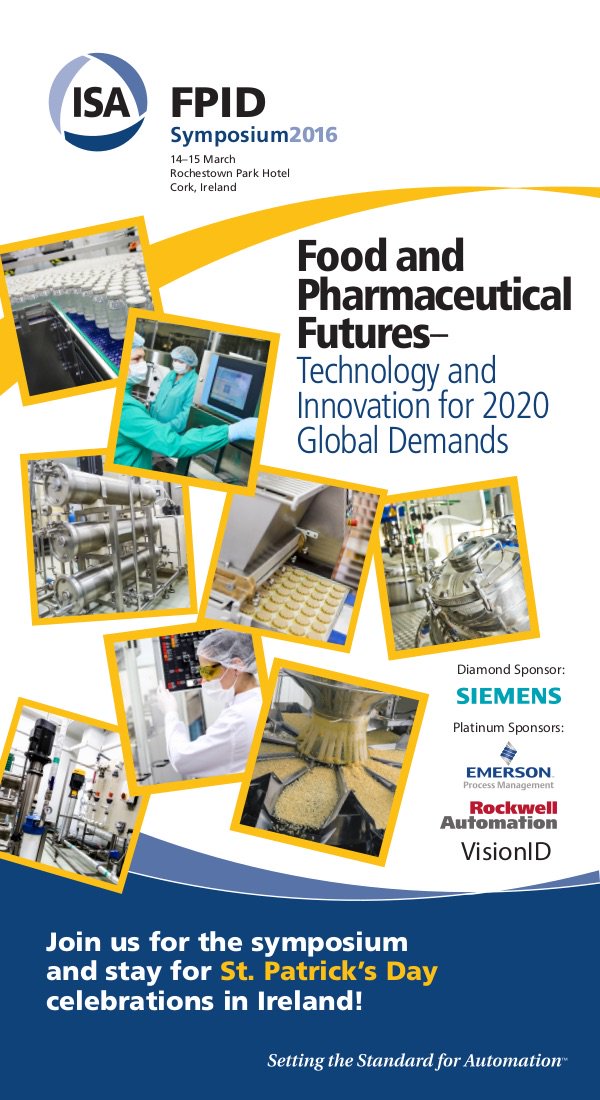 - We reported last year that the 3rd International Society of Automation's Food and Pharmaceutical Symposium (#FPID16) was scheduled to be held in Ireland in March 2016. It is the first time that the event has been staged outside of North America and already a formidable line-up of speakers have agreed to present. This is the principle event of the ISA's Food & Pharmaceutical Division each year.

Integrating biometrics with operations management software. - By integrating Emerson's Syncade Smart Operations Management Suite with Xyntek's Biometrics Solution, users can simplify authentication, ensure the identity of the signer and the integrity of documents, and minimise the risk of credential theft.

How cloud computing is changing industrial automation.

- Jonathan Wilkins, marketing director of industrial automation supplier European Automation examines how cloud computing is disrupting industrial automation.

Automation & reliability provider selected for massive Egyptian petrochem plant. - Emerson Process Management has been selected to provide automation and reliability technologies and services for Carbon Holdings' Tahrir Petrochemicals Project at Ain Sokhna, Egypt. Emerson's initial scope of work is estimated at US$150 million.

Colour digital panel meter. - The Micra-M, is a programmable color digital panel meter with the update technology, which accepts input signals for: Process (mA, V), Temperature (sensor Pt100, thermocouples), or Load Cells (mV/V, mV). The MICRA-M we are supplying now is an updated and improved version of our successful digital panel meter.